Curtain Dry Cleaning Singapore
Professional Dry Clean and Laundry services for all types of Curtains.
Pick up and delivery available*
New customers enjoy 15% discount on their first order with us!

Day Curtains (per pcs)

Night Curtains (per kg)

Black-out Curtain (per kg)

Roman Blinds (per sqf)
Dismantle and Installation Prices
Free Island Wide Pick up & Delivery*
Black-out Curtain (per kg)

Scroll Down
Be it night curtains, black out curtains, day curtains, large size curtains or roman blinds, we at A&B have not only the capacity but skilled professionals to handle any type or curtains. We provide a one-stop curtain dry clean service in Singapore.
Our experts will weigh, count and assess your curtains at the time of pick up.
Washing curtains at home can be time consuming and potentially problematic affair. Different types of curtains will shrink, fall apart or even change colour if not handled correctly. With our curtain cleaning services, you can be assured that your curtains are in safe hands.
At A&B, we have the machines and technical know-how to handle different types of curtains in a proper manner.
We provide pick up and delivery services islandwide and can dismantle and install your curtains so call us now and get a free consultation from our laundry service professionals today.
We also provide sofa cover cleaning and carpet cleaning. Covers will be removed and dry cleaned using the same process as for curtains: Removing dust and bacteria.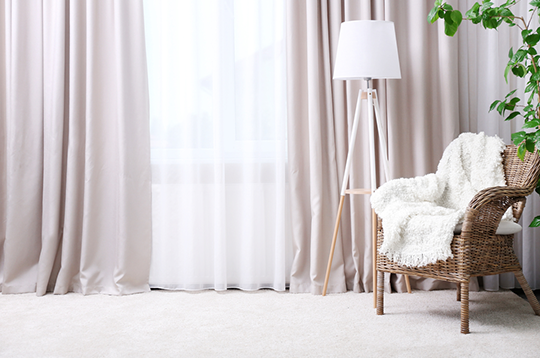 Promotion
15% discount
New Customers enjoy 15% discount on their first order with us!
Offer applies to the laundry or dry cleaning charge for curtains. Not applicable on service fee for curtain dismantling and installation. Minimum order $50 after discount.